Facebook Declares Open War on Privacy
Now that Mark Zuckerberg has formally declared that facebook doesn't think its users want their privacy to be protected, I'm in the process of tightening down both my privacy settings in facebook and what personal information is actually shared there. I've gone through all the privacy settings and set them to either "Friends" or "Friends of Friends," as I deem appropriate. Alarmingly, I discovered that virtually all of my information was being made available to applications which my facebook friends use. I have no control over which applications my friends use, and indeed, there have been several instances lately where one or more of my friends used a rogue application that started posting spam on my wall. So I've removed permission for any application not being used by me (which is all of them) to see my profile information, my photos, links, and anything else.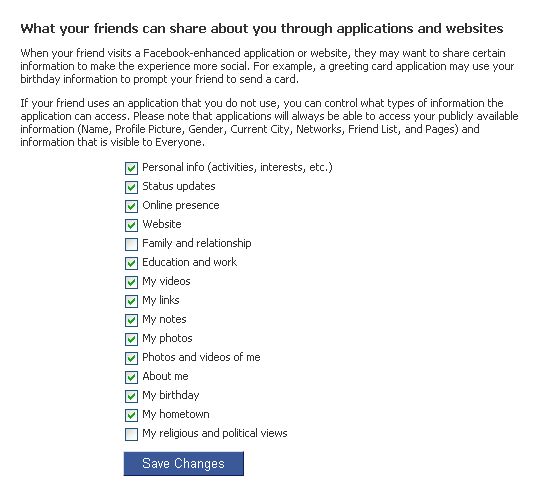 In addition to this, certain profile information is always public. There is no protection for this information, which includes Name, Profile Picture, Gender, Current City, Networks, Friend List, and Pages. My profile picture is not a picture of me, and it will remain so forever.  The check box for "Show my sex in my profile" has been unchecked, and the Dropdown for "Birthday" has been set to "Don't show my birthday in my profile." Unfortunately, there's no way I can hide my Pages, but perhaps I don't so much care about that. I don't subscribe to many. I see no reason why my friend list must be public, though. This is a serious privacy problem, and if I can't resolve this in my mind, it could lead to my departure from facebook entirely. I'll probably remove the giant pile of information under "Personal Information" in my profile as well. The visibility on all of my photo albums has been set to "Friends" or "Friends of Friends" as I feel is appropriate.
It's a terrible shame that facebook has taken this position. Privacy on the internet is an extremely important issue, and any person who uses facebook, google, flickr, or other "social networking" sites needs to be acutely aware of what may be happening to the information they so freely share with their "friends" on those sites. Please, if you are reading this and aren't taking great care to ensure that you remain in control of your personal information, do so now. Educate yourself, don't assume that just because a website is popular, it is taking care of its users. Websites are there to make money, and if they can do that by (legally) violating your privacy, they will.